We gave a TED Talk!
Tyler Schwartz, founder and creative director of Chess at Three gave a talk at TEDx Beacon Street entitled "Can Three Year-Olds Play Chess?"
Check out Story Time Chess, our new board game for teaching your child chess. After our successful Kickstarter campaign, we are now taking orders!
Chess At Three gets kids playing and loving chess through storytelling, starting at the surprising age of 3.
Chess at Three tells stories that transform the chess pieces into a memorable cast of characters. These characters have quirky qualities that help children understand how the chess pieces move.
Every Chess at Three lesson has a fun story that introduces children to important themes that go far beyond chess. Chess at Three students learn about sportsmanship, grit, and math, all through stories.
Schools nationwide that teach our curriculum
Students reached per week
STRENGTHENS ACADEMIC PERFORMANCE
IMPROVES RETAIN TEST SCORES
ENHANCES ARITHMETICAL SKILLS
SHARPENS CRITICAL THINKING
BOOSTS EMOTIONAL INTELLIGENCE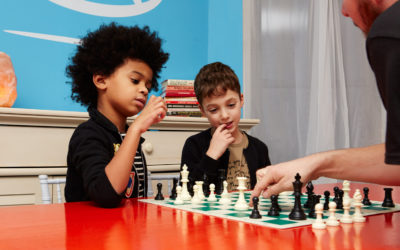 Hello Chess at Three Parents and Tutors, We in the home office of Chess at Three hope everyone is well and staying safe. We are thankful for everyone continuing to be a part of our Chess at Three Family. As you know for over a decade we have been servicing New York...
"Seeing is believing: today I watched 3 and 4 year olds play chess..."
— ABC7 Eyewitness News, NYC